LANDINGS BEACHFRONT APARTMENT FOR SALE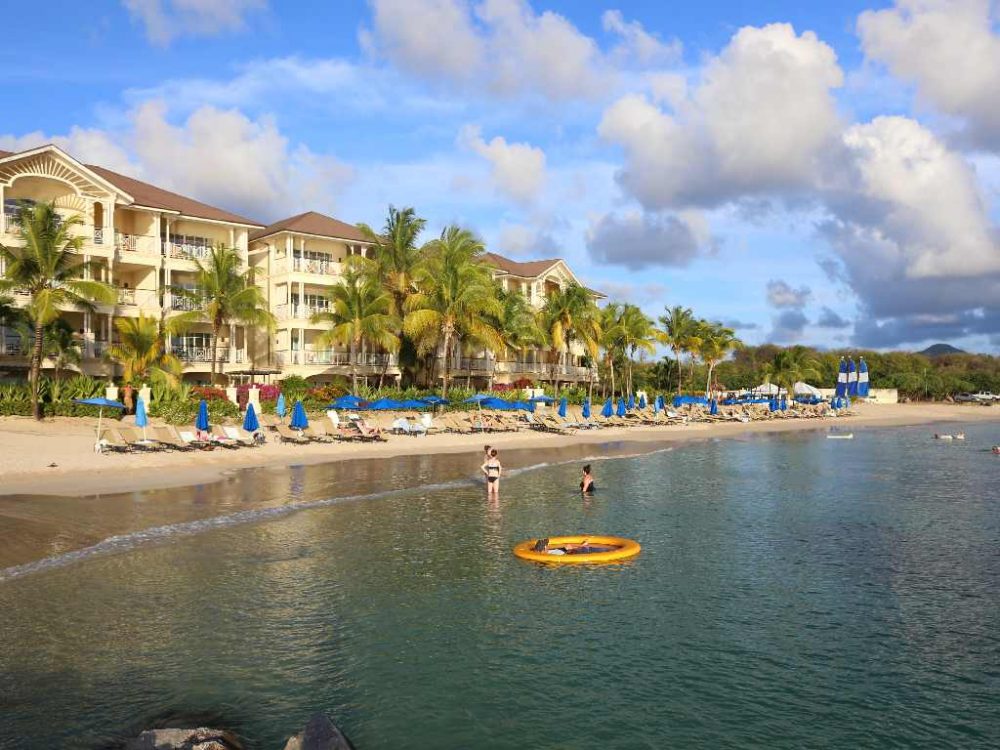 Description
Great advantage – The Landings Apartments are Freehold Beachfront.
A beautiful 3 bed deluxe ground floor beachfront unit IS NOW for sale at the Landings. The approximate size is 3390 Square Feet.
PARADISE FOUND aptly describes this apartment- walking barefoot to the crystal white sandy beach seconds away from your patio.
This apartment is in mint condition and beautifully adorned with aquamarine colour original paintings and featuring pastel coloured waterproof furnishings.
This pastel coloured motif pervades the entire apartment inclusive of the settee and armchairs. An attractive feature of this apartment is the extensive balcony which has 2 alcoves overlooking the Caribbean Sea of Rodney Bay from where fabulous sunsets can be enjoyed. In the garden is a Jacuzzi just steps away from the warm Caribbean Sea of Rodney Bay. The bedrooms are equipped with high risers for the king sized beds with bathrooms en suite the entrance to the apartment from the road you are greeted by a charming fountain.
KEY FEATURES
– Indoor/Outdoor look
– Granite kitchen counter tops
– Marble floors
– Large screen televisions in the living room and in all 3 bedrooms
– Open plan living, dining room and kitchen.
– Dining table seats 8 persons
– Modern furniture
– 2 King size bedrooms
– 1 Twin size bedroom
– Two bedrooms have beach facing patios – added attraction
– Fully equipped kitchen with granite counter tops, dishwasher, wine cooler, toaster, coffee maker etc.
– One can dine alfresco on the large patio whilst watching fabulous sunsets.
What is the Investment?
The Resort offers owners the option to place their Villa in the Hotel Rental Pool and thus enjoy a steady return on investment (ROI).
Owners benefit from rental returns, which cover their HOA fees plus generates a good income for the villa owners .
Owners are seeing a reduction in their HOA fees and the quality of the development has improved. For these owners with their property in the hotel rental pool, their properties are being maintained, serviced and upgraded by the Hotel. These owners are not only seeing a reduction in HOA fees but projections are showing a good ROI after HOA fees have been paid . Also note there is no restriction as to how long an owner can use their property.
Despite the positive turnaround, we also have a handful of owners keen to sell their properties to date. This has led to the recent sale of four properties at amazing prices. With the current Brexit situation looming the remaining owners who wish to sell are very keen to entertain offers.
Pricing
Recommended Sale Price – US$1.9 MILLION
Initial Sale Price – US$2.2 MILLION